Web Editor
Last updated on: 2/28/2018, Permalink
---
Comedy queen, dancing diva, age-defying beauty and one of the finest actress of the Bollywood, Sridevi died at the age 54. She was in Dubai where she went to celebrate her nephew Mohit Marwah's wedding. Pictures and videos from the wedding showed she was hail and hearty and cheerful. But little did we know, it was the last time we would see the legendary actress. Soon after, she passed away while bathing. She was prepping up for a dinner date with hubby Boney Kapoor.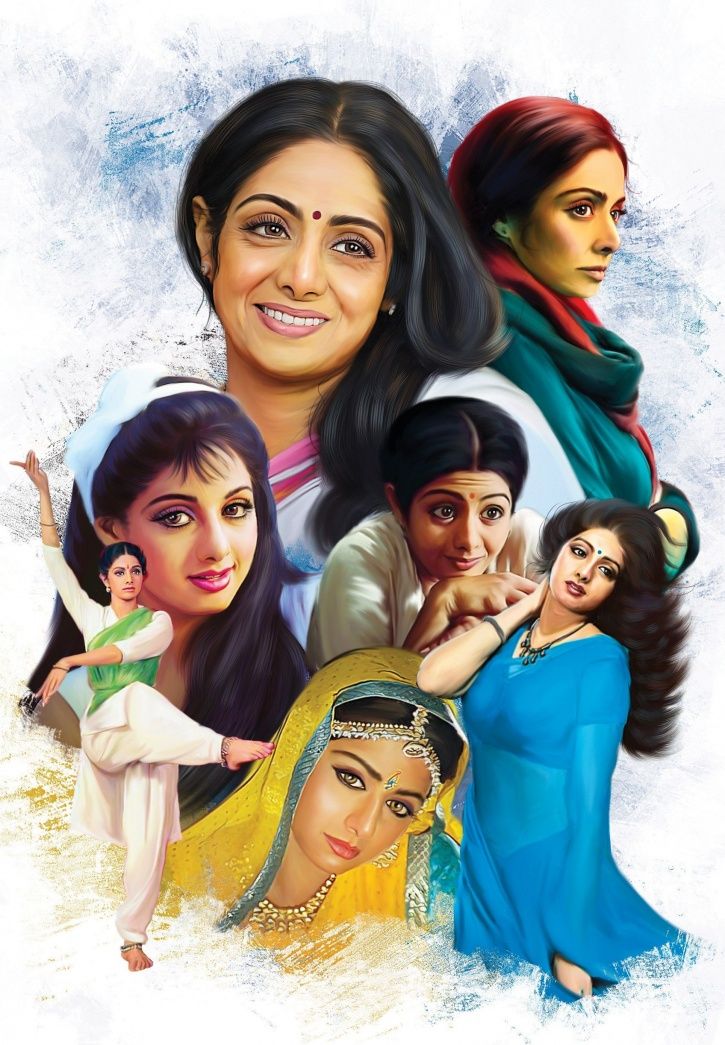 Atul Belokar
Sridevi was an icon for many of us. For those who had grown up in 80's and 90's, she was the diva, a lady full of elegance—be it her mannerism or her body language, almost everyone remained awe-struck by her magic that showed us the beauty of cinema.
She might not be physically present among us, but her films and performances will remain etched in our hearts.
1. Sadma (1983)
Playing a challenging role of a woman who regresses into her childhood post a head injury, Sridevi ruled the hearts of many. She was so natural and innocent in her performance that not only she won accolades such as Filmfare Award for best actress but was also showered with praises from audiences as well as critics.
2. Nagina (1986)
Playing the role of Icchadhaari Nagin (a snake who can take many forms), Sridevi proved her acting mettle yet again with this film. She won Filmfare special award for the film and was lauded for her blockbuster performance by one and all.
3. Mr. India (1987)
The movie still remains afresh in the hearts of many. This movie revolved around kids and depicted a simpler and innocent childhood. She played the role of a journalist in the movie, and her chemistry with Anil Kapoor was loved by the audiences. What's more? All songs in the movie that Sridevi danced to, including Hawa Hawai and Kaate Nahi Katate, became chartbusters.
4. Chandni (1989)
Chandni is one of the iconic roles that Sridevi has played on the big screen. She won a National Award for the film as well. To play the role of a vulnerable woman torn between her paralysed husband and a new lover, she proved that she is a brilliant actress yet again.
5. Chaalbaaz (1989)
Chaalbaaz was a remake of Hema Malini's iconic film Seeta Aur Geeta. In the film, she plays dual role of twins separated during birth Anju and Manju who are brought up in such contrasting situations that they are opposite personalities. She not only won another Filmfare for her role, but also the magazine ranked her performance at the fourth spot in the list of '80 Iconic Performances of Hindi Cinema'.
6. Lamhe (1991)
Weeks after her father passed away, Sridevi shot for comical scenes of Yash Chopra's Lamhe, and it has been one of her best performances ever. In this film as well, the diva played a double role, but this time as a mother and a daughter. The film won five Filmfare awards out of which one was given to Sridevi for her performance.
7. Khuda Gawah (1992)
After Lamhe, Sridevi once again impressed the audiences playing double role as a mother and a daughter yet again. She played a free-spirited Afghan woman in the movie whose stubborn daughter is her look-alike. The movie helped Sridevi make fans in Afghanistan as well.
8. Laadla (1994)
Sridevi stepped into the role of Sheetal after Divya Bharti's untimely demise. And so, the film had to be re-shot. Sridevi was quite a big star at that time, and the movie instantly became a smashing hit at the box office.
9. Judaai (1997)
Post Mr. India and Laadla, Sridevi's chemistry with Anil Kapoor was most loved by the audiences. When in Judaai, she was cast alongside Anil again, people were floored. The movie, which was a remake of Shubhalagnam, was remade into television series Main Lakshmi Tere Aangan Ki.
10. English Vinglish (2012)
After more than a decade, Sridevi made a comeback with Gauri Shinde's English Vinglish, and the audiences went berserk. Firstly, she made a comeback after a very long time, and secondly, because of the great concept on which the movie was based on. Sridevi played the lead role of a housewife who doesn't want to get ridiculed from her family and earn some self-respect, and hence, learns English in a foreign country. Her performance was lauded by fans as well as critics.
11. Mom (2017)
In Mom, Sridevi played a strong role which cast a spell on the audiences. She played a mother who avenges her daughter's rape. Unfortunately, the movie didn't do wonders at the box office, but Sridevi's performance was lauded by critics and audience alike.
Sridevi was so natural on-screen that people would instantly connect with her performances. She started her career as a child artiste at the age of four in the film Kandan Karunai (1967), and her last Bollywood film was Mom (2017).
2/28/2018 | 1101
|
Permalink